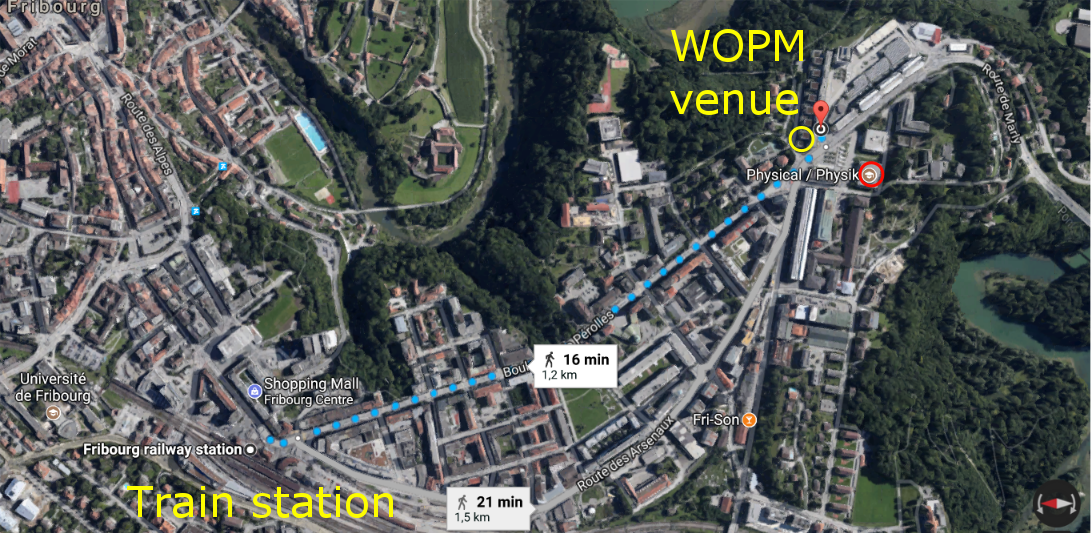 WOPM-2017 will be held in the building PER21 (Boulevard de Pérolles 90) of the Pérolles II campus of the University of Fribourg (yellow circle on the map). The talks will be given in the auditoirium A120 (first floor, left-most auditorium). Poster sessions and Coffee breaks will take place in front of this auditorium.
Talks:
All talks have been given 20 minutes (including discussion) and the chairpersons will be very strict in reinforcing this time frame. Do not forget that you will be speaking in front of specialists, so that there is no need for general introductions and statements on why your research is so valuable for humanity ;-)
Posters:
The posters will be up for the whole duration of the workshop, and we ask the presenters to be near their posters during the official poster sessions. Our poster boards are made to hold up to A0-size posters in portrait orientation. Please prepare your contributions accordingly.
The registration desk:
During WOPM (i.e. on Monday and Tuesday) near the auditorium A120
Early registration is possible on Sunday 5 to 7 PM in the Physics building marked by the red circle.
Please note that you have to pay 100 EUR in cash at the registration desk. NO CREDITCARDS! NO OTHER CURRENCY!

a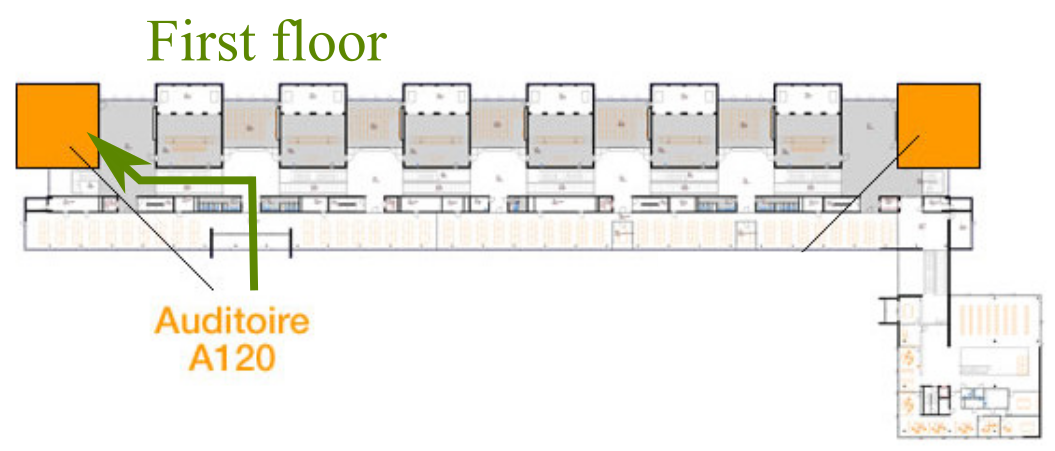 Date: 21.08.2017
Time: 19:30
Location: Restaurant de la Clef, Planche Supérieure 2, 1700 Fribourg
You may find the invitation for the WOPM-2017 dinner (including directions map and menus) at http://opm-workshop.org/images/files/WOPM2017Dinner.pdf
Note that accompanying persons may attend the workshop dinner for the price of CHF 75 / 75 EUR. In case you wish to be accompanied by a person, we kindly ask you to This email address is being protected from spambots. You need JavaScript enabled to view it. (specifying "Vegetarian" / "Non-Vegetarian" choice) before August 11, 2017. We cannot accept accompanying persons for the dinner after that date.
IMPORTANT: We kindly ask you to choose your meal (Vegetarian/Non-Vegetarian) by a corresponding tick mark in your profile on the workshop homepage. Please contact us (Eliane Esseiva) in case you have any specific dietary requests or experience problems with the tick marking.
Access by air
Geneva (GVA) and Zurich (ZRH) have international airports with direct flights to nearly 100 international destinations.
Geneva Airport- Fribourg: by train 91 min.
Zurich Airport- Fribourg: by train 105 min.
Bern (BRN) and Basel (BSL, EAP, MLH) have smaller airports serving many European destinations.
Train connections in Switzerland
We highly recommend the "Swiss Federal Railways (SBB)" website for up-to-date timetables, tickets and all other info.
Public transportation in Fribourg
General info about available ticket options at tpf: Travel cards and tickets.
Note that Fribourg is a relatively small city and most of destinations are within walking distance.
The 15 min walk is the most convenient way to arrive to the conference venue from the Fribourg train station. Alternatively one can use city bus number 1 (every 10 min), 3 or 7.